Das Internet in Echtzeit. Haben Sie sich jemals gefragt, wie viele Daten pro Sekunde durch soziale Medien und das Internet erzeugt werden? Penny Stocks Lab hat folgende interaktive Infografik erstellt:
Facebook: 249998400 Likes
Instagram: 174999600 Likes
Twitter: 26107200 neue Tweets
Snapchat: 6249600 aktive User
Youtube: 451461600 Video Aufrufe
Pinterest: 583200 Pins
Dropbox: 6001200 geteilte Dokumente
Tripadvisor: 237600 Bewertungen
Uber: 82800 Fahrten
Google: 186001200 Suchen
WhatsApp: 1000000000 Nachrichten
"The data used on this page was fetched from sources around the web referenced in above link. Some statistics are based on a yearly reported data and are thus averaged down to per second basis and do not represent actual real time data but rather very accurate approximation of real time growth."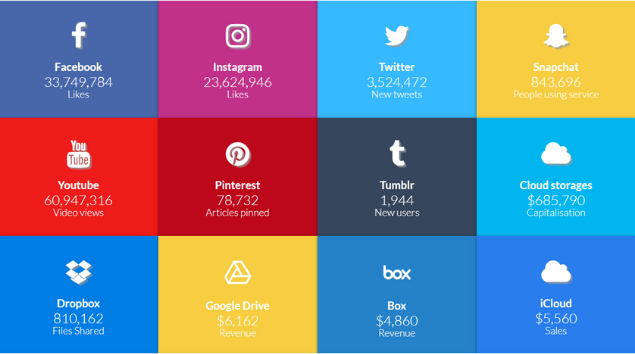 Wollen Sie mehr über die Echtzeitrelevanz von digitalen Produkten und Dienstleistungen erfahren? Let's meet up!