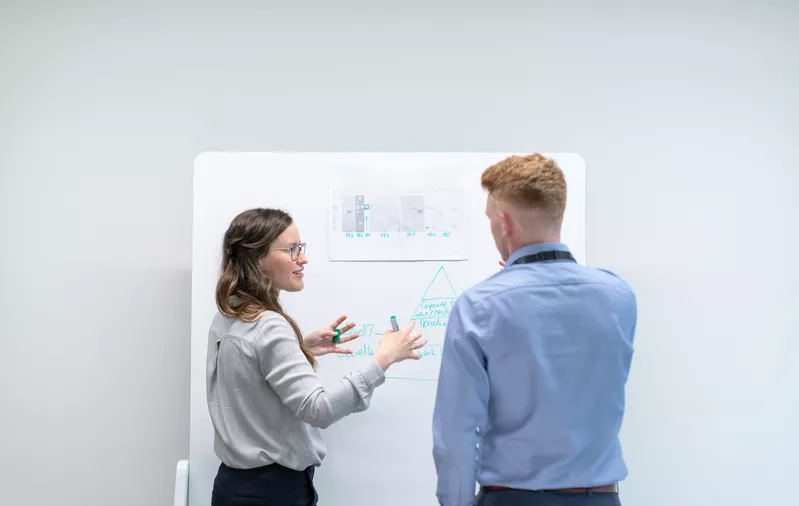 Reach of posts, likes, shares, comments, number of followers, impressions and page hits. The list of figures is long. However, not all figures and data are relevant to you and your company.
We help you to focus on the figures that matter. This will help you to measure the success of your communication on all of your channels in a targeted manner. Selecting the right analysis tool for your specific business goals will help you save valuable time in future. You will know exactly what data on which channel needs to be analysed to measure your success.
AVOID SCATTERING LOSSES
All aspects of your digital communication are analysed on the basis of data. As part of a media channel analysis you improve the layout, reach and interaction rate of your online and social media channels, offering your customers the perfect user experience. Analysing topics and target groups enables you to tailor your messages to your specific target audience and to write posts that will hit home.
Learn how to systematically monitor your competitors' digital communication. Analyse your competitors' successes and failures, and draw the right conclusions from real-life digital communication scenarios. Together with us, you will make your online and social media communication more measurable, more efficient and more successful.
SELECT THE RIGHT TOOLS
Apart from knowing the figures, selecting the right tools is crucial if you want to be efficient in your communication. Find the right solutions to challenges with us. By individually selecting tools, you will only measure those parameters that are indeed key to your company's digital success. You will save money because you won't be using more powerful tools than you need to communicate in the digital world successfully.
GO FOR INDEPENDENCE
We are completely independent from any providers and look at your company's digital communication solely from the perspective of data. Learn how to analyse your target group and your competitors. And use the gathered data to adjust and perfect your strategy, if necessary.
Benefiting from
data-based analysis
Engage only in those online and social media activities that will result in concrete and measurable success. You know which tools give you the figures you need, and you are aware of your digital activities' impact at all times.
Learn which tools are best for your company and its activities. Don't spend money on expensive tools that measure irrelevant numbers. Communicate successfully in the digital world by collecting the data that fit your needs.
Ongoing analysis of the right data means that you can adjust your activities at any time to the dynamic digital world. Learn how to identify bad practice, and counter it with activities that will lead to immediate success.
Any questions? Let's meet up!
Would you like
to know more?
SIGN UP TO OUR NEWSLETTER