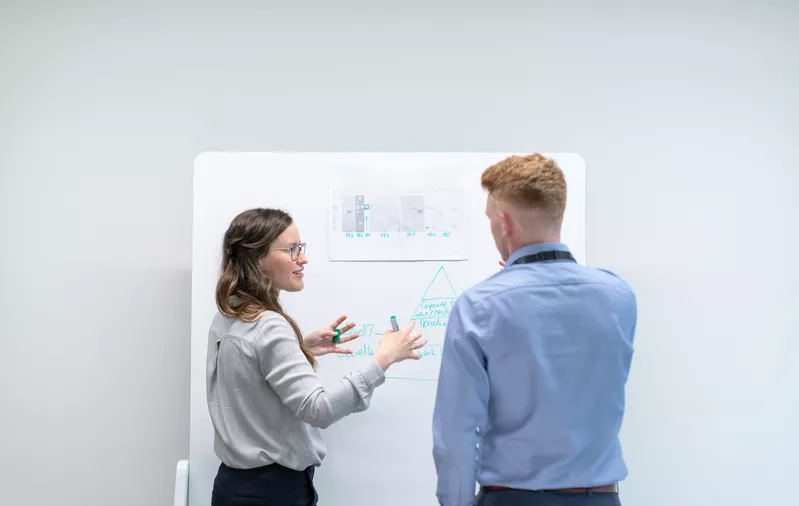 EFFICIENT & SUSTAINABLE ON ALL CHANNELS
Devising digital strategies
Nearly every company is engaging in online and social media communication nowadays to spread their message and content to their target audience. Very few of them manage to do this in a targeted manner, devising their digital strategy and making constant data-driven adjustments.
To make your communication more efficient and more successful, your strategy needs to be holistic and sustainable. Work with us to collect the right data and information about your audience, and don't leave any aspect of your digital strategy to chance.
TARGET GROUP ANALYSIS
Armed with the relevant data about your audience, you prepare content that resonates with that audience, knowing which channels yield the highest impact and at what times. We help you to collect the data you need, allowing you to optimise your digital strategy as and when you see fit.
CONTENT- AND SOCIAL MEDIA MANAGEMENT
The right tools will help you plan your content strategically and to publish it automatically at the right time. You will produce regular content that moves and engages your audience. We help you select the tools that match your individual business goals.
COMMUNITY AND CRITICISM MANAGEMENT
Use social media and Google to distribute your content and messages not only to your core target group but beyond, and to raise awareness of your brand. Use the right tools to look after your community and to achieve brand loyalty. Tie your customers emotionally to your company. React coolly to criticism, and react as quickly as possible to digital crisis situations. We help you maintain a good overview of the reactions your content elicits, allowing you to intervene in time and to adjust your strategy accordingly.
Data-based digital
strategy
You no longer send out your online and social media messages haphazardly but reach your target group in a sustainable manner. Your digital communication becomes measurable, giving it a concrete value that is transparent to all involved and allowing you to evaluate your activities objectively.
Leave trial and error behind you as you optimise your online and social media communication. Plan, prepare and distribute your content automatically on the online channels that work best for you and your company, and at just the right times. And save time, money and valuable resources in the process.
Crises in online and social media channels can quickly threaten your brand and image. An ongoing analysis of your channels will give you the overview you need to be able to intervene quickly and efficiently if the need arises. This will help you avoid real trouble and strengthen your customer loyalty.
Any questions? Let's meet up!
Would you like
to know more?
SIGN UP TO OUR NEWSLETTER